My Favourite Summer Foods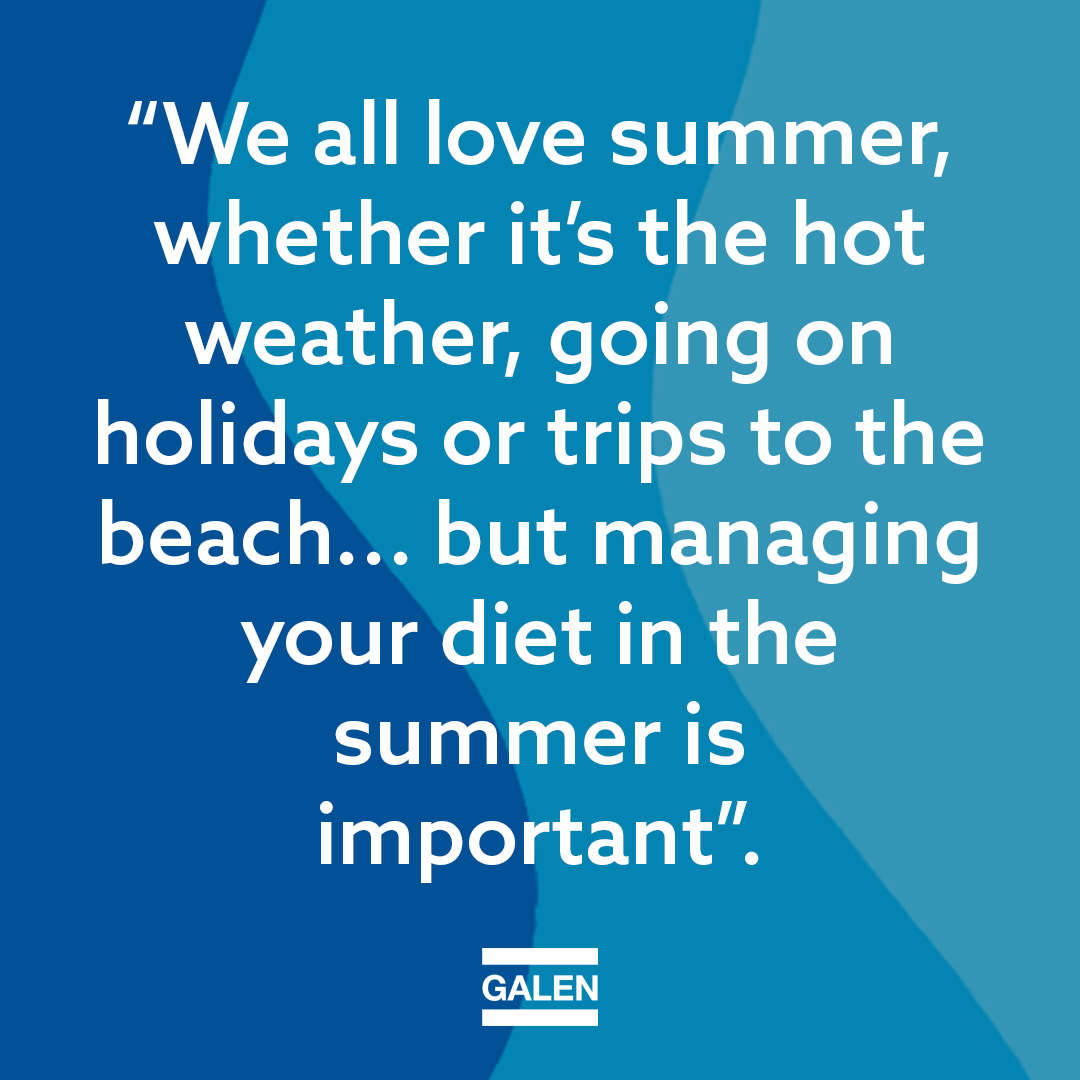 Hello everyone, my name is Clair Willcocks, I am 28 years old and I am Galen Medical Nutrition's PKU blogger. I am an adult with PKU and I was diagnosed with Classical PKU 8 days after birth. I am on 5 exchanges of protein a day and currently taking the PKU EASY Microtabs substitute 6 times a day.
The sun is out, the trees are lush and green again, and the daffodils have been and gone. It's official… Spring has finally sprung, and Summer will be following shortly!
With the change in weather and heat, I find that I'm not in the mood for the big heavy meals that I would eat in winter and autumn like soups, pasta bakes, hot pots, and lasagnes. On a warm summer's day, the last thing I want to do is hang around the oven and cook big meals for a long period of time, so I thought I would share my favourite summertime meals that are perfect for a sunny day & my top tips to make them even better!
Salads
Summer is always the perfect time for a salad. There is no cooking or baking required, just chop up a few veg and throw them together! I think a common mistake when trying to prepare for salads is having too many different types of vegetables: radishes, mushrooms, peppers, tomatoes, lettuce, cucumber, the list goes on. It is great to have a wide selection of veg available but then you've got a fridge full to use before they go out of date, and you are left eating salads every day for the next few weeks.
I now make sure to shop week by week, taste by taste, and only buy the veg that I know has multiple purposes. For example, I know to always buy tomatoes and peppers as not only do they work in every salad, but they can also be used for curry or pasta sauce. On a week that I fancy an avocado salad, which requires cucumber, I'll make sure to get just enough to last for that week, not buy 3 because I'm over excited.
The great thing about salad is that it's versatile to suit your exchange needs! It can be completely free of protein with just the chopped vegetables, or you can add extra protein, whether that's a few scoopfuls of canned sweetcorn, tinned potatoes or smaller bits of normal cheese.
When making a salad, it is important to add fats. If you are not adding protein, it's very easy for the salad to be too low in calories & not very filling. This is when vegan cheese, olives, vinaigrette or even avocado come in. A favourite tip of mine for avocado salad is to add some Violife Greek style white block cheese.
Cold Pasta
We all know that the real fun of making pasta is that you never make the right amount. You mean to make a portion for yourself, and you end up making enough for a family of 4. I however use this to my advantage using the extra to make a meal for the next day.
There are a few great ingredients you can add to pasta so you can have it hot or cold, meaning you can go straight out in the sun and enjoy your lunch! The ingredients I like to add to cold pasta are:
Tomato paste with herbs
Chopped fresh tomatoes with herbs
Gluten free pesto (18g = ½ exchange)
Violife cheese
Side Dishes
I love adding a side dish and dips to a hot meal, such as jacket potato. Olives, vegan cheese such as Violife Greek block or vegan Babybels make a great addition. My personal favourite side dish is guacamole, which is always better made fresh in my opinion. I love it with oven fries, crisps, gluten free pretzels.
My perfect guacamole is made with ripe avocado, lime juice, a finely chopped small portion of onion, and tomatoes. For an extra kick, I have been experimenting with adding a small amount of chilli pepper. For Christmas, I was gifted a Ninja Chopper, which is a gamechanger for making any kind of dip or salsa although I need to experiment more with making the salsa! If the avocado is ripe enough (or overripe) it is easy enough to stir it all together in a bowl with a spoon.
Fruit
You can't talk about a summer meal without mentioning the classic fruit salad! What's great about vegan products coming out is that not only are there so many different options for cheese but also for cream and yoghurts. I have named a few below but the list honestly goes on with the majority of these being around 0.6-1g of protein per 100g/ml, so you can have pretty big dollops of them too!
Elmlea Plant Double Alternative To Cream (0.6g)
Food Heaven Whipped Spray Cream Vegan (free of protein!)
Swedish Glace Vanilla Non Dairy Frozen Dessert (1g)
Koko Dairy Free Greek Style Yogurt (1.1g)
Koko Dairy Free Plain Yoghurt (0.6g)
One thing I've enjoyed adding to my morning yogurt breakfast is compote, which is surprisingly easy to make. It lasts quite a while in the fridge and adds some much-needed sweetness to any desert!
All you need is a bunch of mixed berries – blackberries, strawberries, blueberries etc. Chop them up into smaller chunks, add to a pan with 100g of caster sugar and a few tablespoons of water and then bring it all to boil. Once it's boiling, lower the heat for the berries, simmer for 5 minutes and that's it! All you need to do is place the mix in an airtight jar, leave it cool with the lid open and then once cooled pop into the fridge, ready to spoon into any desert required.
Conclusion
We all love summer, whether it's the hot weather, going on holidays, trips to the beach or just sitting in our back gardens on a summer evening. We can enjoy eating outside at a family BBQ, taking a delicious, packed lunch to work to eat in the park or simply enjoying a snack at home in the comfort of our garden. Managing your diet in the summer is important and hopefully some of these ideas can help you enjoy it at the same time!
< Back to Blog